4. Involving workers in your selection process
Your workers are the ones who wear protective clothing all day long, so it makes sense that they'd have valuable insights to share with you, right? Not only is an employee who feels heard and seen a happy employee, but a happy employee is a safe employee. Research shows a link between high engagement and safety compliance, so why is it still so rare for companies to involve their employees in the protective clothing selection process?
Start with a protective clothing audit
Maybe you're unsure where to begin, or which questions to ask. An independent audit can facilitate the process for you by gathering insights from your workers. It also sends a powerful signal to your employees that you care about their honest opinions and their comfort on the job.
Listen to what your employees have to say
As you kick off your protective clothing tender, take the time to ask your employees questions like:
"What do you think about your current protective garments?"
"How can we improve your experience?"
"How safe and/or comfortable do you feel wearing these garments?"
They may feel more comfortable sharing their honest feedback anonymously to a third party in a private interview, rather than in a group setting or through a feedback form. This kind of in-depth discovery is another benefit an independent audit can provide you with.
Test out your options
Once there are new garment options on the table, are you performing a wear trial to ask your employees "Do you feel safe wearing this garment? Are you comfortable? Can you move freely?" These questions dive into the wearer's "soft" or subjective experience of the garment, which matter just as much as the garment's hard technical specs and performance. Feeling uncomfortable and unsafe can make a worker feel like his opinion doesn't matter, or even worse, that safety doesn't matter.
"Comfort" means something different to everyone
It's very important to realise a "one size fits all" approach doesn't apply when it comes to comfort. What feels comfortable to one person, may not to another person. That's why it's so important to do a thorough job of collecting feedback from your employees — they're all unique individuals who deserve to have a say.
Once you've gone to the effort of listening to your workers, the obvious next step is to DO something with their feedback. Put your money where your mouth is by taking action on complaints and suggestions for improvement. Taking your employees' input seriously is the best way to show that you care about their satisfaction.
Is comfort really so important? (Hint: yes!)
As a Health & Safety Manager, your primary responsibility is to create a strong safety culture for your company, and more specifically, for the employees you manage. Choosing high-performing protective clothing is an important part of your role, but are you also prioritising comfort alongside safety?
Comfort = safety
It's not an either/or scenario: comfort and safety go hand in hand when it comes to keeping your workers protected! A worker who feels comfortable in their protective clothing is much more likely to wear it correctly and safely throughout their shifts.
What do we mean when we talk about comfort? We're referring to:
Fabric weight
Moisture management
Breathability
Fabric softness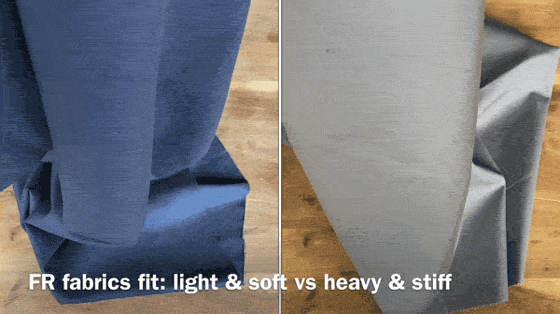 Each of these elements has an effect on the wearer's perceived comfort levels. Comfort can also vary in different climates and working environments — for instance, a heavy protective garment can be too hot to carry out strenuous activities in warmer climates.
Don't skip comfort
By listening to your employees' requests around comfort in your protective workwear selection process, you empower them to take responsibility for their own safety by wearing their workwear correctly. If you miss out on comfort, you'll only increase the chance of injuries on the workfloor.